Great wisdom and messages in general and in many different aspects of life and the world. I love that he is embracing the world's challenges in a direct way now and making the connection between inner and outer peace. However, when he highlights the importance of keeping "his center on his identity and not that which he is experiencing," I think this is a very dangerous half-truth. It is not that I don't see and agree with the importance of focusing on the silence and essential part of our soul, silence or compassion. It is that the focus doesn't also significantly focus on the human emotion inside him and for all of us.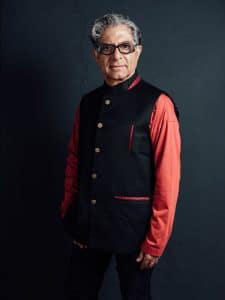 In my life experience this lack of focus on experiencing and sharing our own internal states increases the perpetual danger of spiritual teachers and students not also focusing with presence on where they are human (i.e. hurting, angry, frightened or withdrawn). This lack of additional reverence for our human experience unwittingly seems to increase the illusion of arriving at a total peace and limits the back and forth between being awake and human in some way. This all too commonly sets an ideal of being enlightened, mindful and compassionate rather than one of the teachers and students opening to an interplay where they/we are most awake and human as long as we are alive.
The leaders that he refers to, I couldn't agree more that most of them are "gangsters and thugs". This is clearly a reflection of suppressing the human and egoic side of themselves and believing they have arrived at a state of leadership. How many times have we seen a leader or spiritual teacher value sharing their own challenges and compassion, rather than just appear to be "together"?
It seems evident that part of the healing of the planet is a call for leaders of all types to both model compassion and personal transparency to help the rest of us do the same. This is huge as an issue for all of us as leaders or followers and it would be inspiring for anyone reading this to make the request to their leaders and teachers to present a more integrated and humble reflection of themselves to the world.
Photo Caption: At 73, Deepak Chopra is in what he calls "the final season" of his life. But rather than slowing down, the trained internist, alternative medicine advocate and meditation expert says he feels an urgency to communicate what he's come to understand over the years. (TIME)