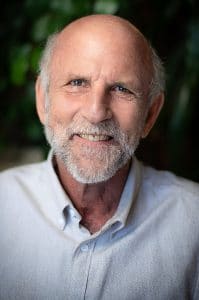 Awareness That Heals is an expression of the tools that Robert Strock has developed over a lifetime of inspired self-exploration. During an almost five-decade practice as a teacher, psychotherapist, and humanitarian, he has developed a unique approach to communication, contemplation, and inquiry. Robert is the founder and chairperson of the Center for Authentic Living, which has distinguished itself as a leading counseling practice for the Southern California business, healing and entertainment communities. His many online videos are shared with therapists, psychology students, social workers, caregivers, and seekers of their own inspiration.
Twenty years ago, Robert co-founded the Global Bridge Foundation, whose mission is to work toward a more compassionate, peaceful world by offering guidance and funding that especially address poverty and global warming. This foundation aspires to be a part of a united effort—with other foundations—to support systems for global change and healing. Robert has taken his continuing lifelong self-exploration beyond his personal lifestyle and into inspirational work, both in his practice and the world.
Robert also created Psycho-Economics, which is a theory and practice designed to integrate our personal financial objectives with our life purpose in order to better align with our highest and truest values. By seeing more clearly where and how our money is used, and how it can align with our core priorities, we can see more clearly how fear can influence our financial goals and how to live a balanced work life.
Awareness That Heals brings to fruition the full expression of Robert's approach and the way he interacts with the many organizations and people in his daily work. He briefly summarizes it this way:
"At all levels, I support my clients to cultivate a deepening kindness toward their emotional and practical challenges while simultaneously accessing their own best self whenever they are facing these issues. If I'm correctly doing my work, their best self is constantly interacting with their own pains and challenges.
"Given the state of our world, I have felt moved to take how I work with individuals and extend it to working with organizations and foundations: the issues are fundamentally the same."
Susan Hough, the host of "Living Your Gifts Radio," has a deep dialogue with Robert Strock
regarding some of the practices in his book Awareness That Heals.
Earth Day 2021: Robert Strock participates in a panel discussion regarding critical issues affecting our planet and the environment.
Robert Strock is a guest on The Spark podcast with Stephanie James. They discuss various aspects and practices from Robert's book Awareness That Heals.