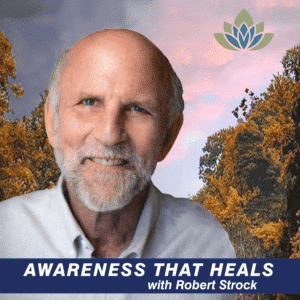 The Awareness That Heals Podcast brings you meaningful discussions that provide guidance and insights into the way we care for ourselves during life's emotional, situational, and existential challenges. They can be faced and embraced by using the tools presented in the Awareness That Heals book and podcast.
Awareness That Heals offers you a variety of practices to support greater awareness of what may be troubling you, while simultaneously finding a place to actively care for yourself.

In this guided meditation, we explore the challenging emotions of condescension and arrogance. While these emotions may not necessarily pertain to your current state, they are used as examples to help you become more attuned to your own difficult emotions,  your responses to them, and how you can best discover and tend to your emotional needs. The central focus lies in cultivating awareness of these challenging emotions, developing tolerance, and acceptance, and uncovering pathways toward greater ease, resolution, and self-care. 

Sep 3, 2023
In this guided meditation, we will use specific emotions to directly witness your tone of voice. In doing so, you can begin to guide yourself to the best parts of yourself as well as those of others. We will explore the emotions of intolerance, impatience, and annoyance. So, if your emotions are different, simply substitute your own emotions. Recognize your tone of voice and whether it is annoyance or irritation, timidity or insecurity.  Read More . . .