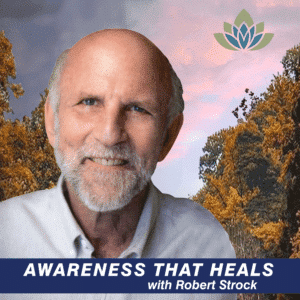 The Awareness That Heals Podcast brings you meaningful discussions that provide guidance and insights into the way we care for ourselves during life's emotional, situational, and existential challenges. They can be faced and embraced by using the tools presented in the Awareness That Heals book and podcast.
Awareness That Heals offers you a variety of practices to support greater awareness of what may be troubling you, while simultaneously finding a place to actively care for yourself.

Host Robert Strock and guest David Knapp dig deeper into developing self-acceptance and balance as we continue on a journey through challenging feelings. Misconceptions about self-acceptance can lead to causing undue harm to others, especially when dealing with anger. However, true self-acceptance comes when we express ourselves with sensitivity, thoughtfulness, and honesty. Part of self-acceptance means saying yes to negative emotions, embracing them, and tolerating them without hurting others. Listen to this episode . . .