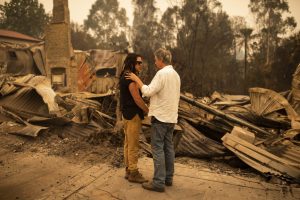 The best way each of us can help with the fires is to recognize that we are all interconnected with Global Warming and therefore all of our actions matter.
Look at the side of yourself when you think, "Well, I'm only one person, so what difference does it make if I get an electric car, buy from companies that are responsible, volunteer for an hour, or donate money?"
Let it be a loud screaming red flag with a huge reminder: This is the time where I am connected to the fires, floods, and endangerment to the planet. We can all have a mass change of awareness and action, but only if each of us takes it to heart.
As you read this…take a moment to see how committed you are to looking at the micro-details of your daily choices and actions. See if you are taking some time to also contemplate and talk about it with friends.
May we all inspire each other with small and big actions that change what it means to be a human being and a global citizen. It doesn't even need to be out of idealism, but simply the common sense to want all of us to have the best chance to survive. We mustn't rationalize or minimize our roles, choosing instead to find the heart and inspiration to be connected to each other.
Photo Caption: Business owners stand in front of their shop which was destroyed by a bushfire in Cobargo, New South Wales, Australia on Jan. 1, 2020. Sean Daveny, EPA-EFE. (USA Today)