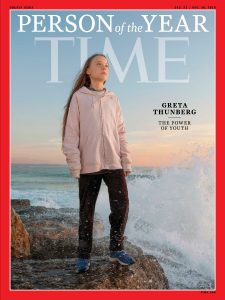 This human being is telling it like it is in a way that no one I know of can duplicate. We need to soak it in. She has moved so many of us to tears with the truth of our sleepy, self-destructive way of living and that the values of our own lifestyle are dwarfing our own survival needs. I hope that she is dearly cared for, because no one person can carry this much weight for the world without it being incomprehensibly stressful. My heart goes out to her as she is a treasure.
Most importantly, the message she is giving to all of us is that we are asleep in our own unconscious dream of immortality and immunity. She is asking us to face our deaths and the increasing potential of an unintended homicide of our children and grandchildren. We all need to pause from our day and psychologically own that we are in a slumber that is beckoning us to wake up in a purposeful response to the challenge of our age. This needs to be the priority for all of us who have our own survival taken care of.
This requires us to reevaluate our relationship to money, our desires, and denial. Open our hearts and let this be an inspiration to find meaning in a common purpose of international survival beyond all borders. This is the likes of what Buckminster Fuller was warning about 50 years ago. So many good organizations like The Buckminster Fuller Institute, Acumen, and various billionaires are starting to step up.
Nothing short of a change of values that enter the religious, spiritual, educational, creative and cultural arenas will give us the hope to join this mission that will last our lifetimes. If we look at it from our deepest awareness, we are all being given a ticket to how we can find meaning and purpose in our lives. Let's follow the words from an old Moody Blue's song…  "A small part of a hope of a love that exists in the eyes of a child you will see." (from the album "To Our Children's Children")
Photo Credit: Climate activist Greta Thunberg photographed on the shore in Lisbon, Portugal December 4, 2019. Photograph by Evgenia Arbugaeva for TIME.